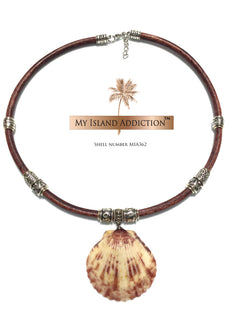 Leather Sanibel Shell Choker Necklace MIA362
Dusty Rose
My Island Addiction Artisan Coastal "Dusty Rose" is timeless, with a deep burgundy center at the top, cascading down a soft, warm cream into tiny bits of coral orange, with a hint of pink and white at the bottom.  Colored by nature itself, Dusty Rose symbolizes elegance and sophistication.  
Theres only one, My Island Addiction.
Leather is antiqued, weathered, vintage red brown.
Adorned with Zamak beads, 925 sterling silver, stainless steel
Zamak Ornate Lobster clasps.
Brand: My Island Addiction LLC
Size:  18 inches, plus extender chain of 1 1/2 inch.
If you need this in a smaller size, let us know on the order form in "Notes", or email us.